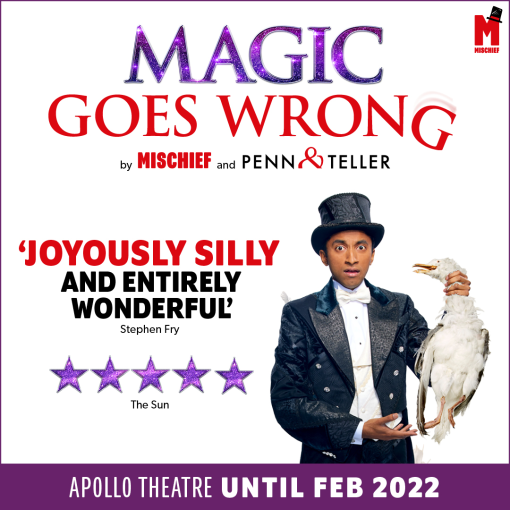 Magic Goes Wrong
Apollo Theatre

4.5/5

based on 36 reviews

Booking until: Sunday, 27 February 2022
Running time: 2 hours 10 minutes
Magic Goes Wrong photos
Magic Goes Wrong description
About Magic Goes Wrong
Welcome to the latest Goes Wrong epic from Mischief Theatre, whose The Play That Goes Wrong, The Comedy About A Bank Robbery and more have delighted so many comedy lovers. This time around, thanks to the brilliantly silly Penn Jillette, Henry Lewis, Jonathan Sayer, Henry Shields and Teller, the show delivers an extremely funny evening of 'grand illusion' that goes spectacularly awry. The amateur magicians that star in the show combine magic and comedy to thrilling effect, creating a stage event that has audiences in fits of helpless laughter. Thank you, Mischief Company, for the giggles!
What's the story of Magic Goes Wrong?
Magic Goes Wrong presents a team of amateur magicians determined to showcase their best tricks. They're doing it at a charity event and it doesn't take long before more or less everything goes horribly wrong, including a spectacularly gory 'sawing a woman in half' scene. Every time a trick goes belly-up, their fundraising target increases. You'll love this dazzling, fast-paced collection of tricks and comedy sketches, starring Henry Lewis as the mentalist called 'the Mind Mangler' and Dave Hearn as the Criss Angel look-alike 'The Blade'. Jonathan Sayer plays the Mind Mangler's useless stooge Mickey. And audiences adore the non-stop catalogue of hilarious magical disasters that unfolds.
Who is on the Magic Goes Wrong creative team?
This crazy-funny production is directed by Adam Meggido. Ali James is the movement director and Hannah Sharkey is the associate director. Amy Marchant is the resident director. The design team consists of designer Will Bowen, costume designer Robert Surace, David Howe the lighting designer, Paul Groothius the sound designer, and Duncan McLean the video and projection designer.
What are people saying about Magic Goes Wrong?
The Times - "gloriously silly."
Evening Standard - "The same Mischief mix of shouty comedy, slapstick and humiliation."
The Sun - "It'll have you spellbound for the evening."
Find cheap tickets for Magic Goes Wrong
Magic Goes Wrong is simply fun. There's no other agenda other than the laughs, and they are non-stop as you'd expect from our favourite mischief makers. You'll leave the theatre feeling alive and inspired, having laughed yourself silly along with a huge audience of fun-lovers. If you really enjoy watching flustered English people get even more confused and baffled as more or less everything they touch goes pear-shaped, this one's for you. And you're in luck – we sell cheap tickets for Magic Goes Wrong, so hop along and grab some while you can. We also feature special offers, the biggest ticket inventory available, plus seat reviews to help you make the best choice.
Apollo Theatre
31 Shaftesbury Avenue, London, W1D 7ES GB (venue info)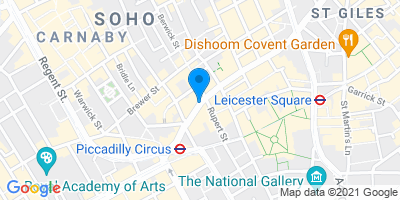 Directions
Age restrictions for Magic Goes Wrong
12+
Important information for Magic Goes Wrong
12+
Performance Times for Magic Goes Wrong
Shows Similar to Magic Goes Wrong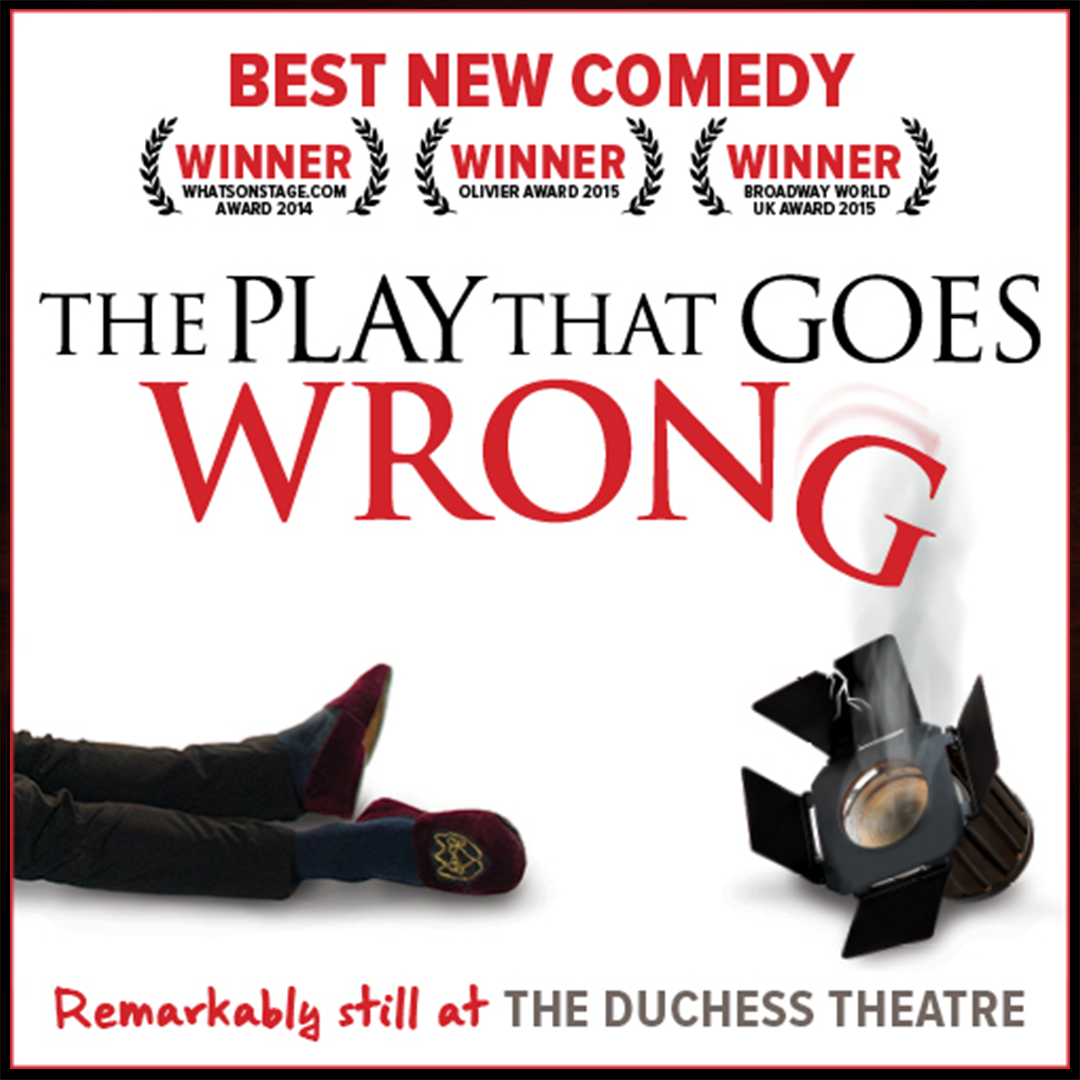 The Play That Goes Wrong
Duchess Theatre
Booking until:
Sunday, 30 October 2022
tickets