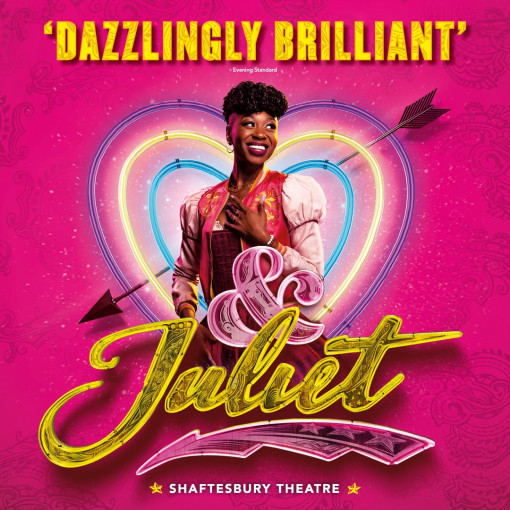 & Juliet

2 hours 30 minutes
Shaftesbury Theatre

4.8/5

based on 268 reviews
& Juliet photos
Booking details
Booking until: Saturday, 25 March 2023
Running time: 2 hours 30 minutes
& Juliet description
About & Juliet
& Juliet is a smash hit of a 2019 musical featuring music from the legendary Max Martin and a very cool book by David West Read. The story is a 'what if' jukebox musical examining what might have happened if Juliet didn't die in Shakespeare's play but lived... and loved. There's even a brand new tune to enjoy, One More Try, co-written by Jessie J. Writers. The world premiere production thrilled audiences at the Manchester Opera House in autumn 2019, a show so good it's no surprise it has transferred to theatreland.
What's the story of & Juliet?
& Juliet is the hilarious, fun and funky tale about Shakespeare's Juliet, a fresh version where she decides to choose her own fate rather than let fate overcome her. This is Juliet Capulet's story, and it is packed with brilliant pop anthems including Baby One More Time, Everybody, Love Me Like You Do and Can't Feel My Face. No wonder it is being billed as a 'riotous blast of fun and glorious music'. The message? When it comes to love, life definitely does NOT end with Romeo!
Who is on the & Juliet creative team?
Max Martin is responsible for the Music and Lyrics, David West Read for the book, and Luke Sheppard Directs. Jennifer Weber is the Choreographer and Soutra Gilmour the Set Designer. Paloma Young is the Costume Designer and Bill Sherman is the musical's Music Supervisor, Orchestrator and Arranger. Howard Hudson does the Lighting Design and Gareth Owen the Sound Design. Andrzej Goulding is the Video and Projection Designer and Linda McKnight designed the wigs. Dominic Fallacaro is the Original Musical Director, also taking care of Additional Arrangements and Orchestrations, and Patrick Hurley is the Musical Director. Anna Fox is Associate Director and Kendra Horsburgh is Associate Choreographer. Stuart Burt CDG is the Casting Director and Greene Light Stage is the General Manager. The Producers are Max Martin, Tim Headington and Theresa Steele Page.
What are people saying about & Juliet?
Evening Standard - "It was the most fun I had at the theatre all year."
The Sun - "With a soundtrack this good, no other West End production can compete."
Express Online - "A ridiculous amount of fun!"
Find cheap tickets for And Juliet
Some of the best special offers on the market, and some of the lowest ticket prices. A huge ticket inventory, maybe the biggest available. Plus genuine seat reviews from real people to help you choose. That's what we call the makings of a great night out!
Playing at Shaftesbury Theatre (venue info)
210 Shaftesbury Avenue, London, WC2H 8DP GB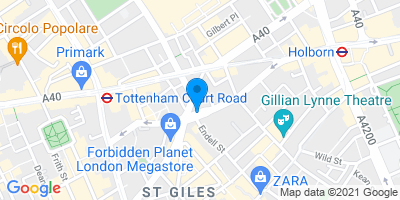 Directions
Performance Times for & Juliet
Shows Similar to & Juliet