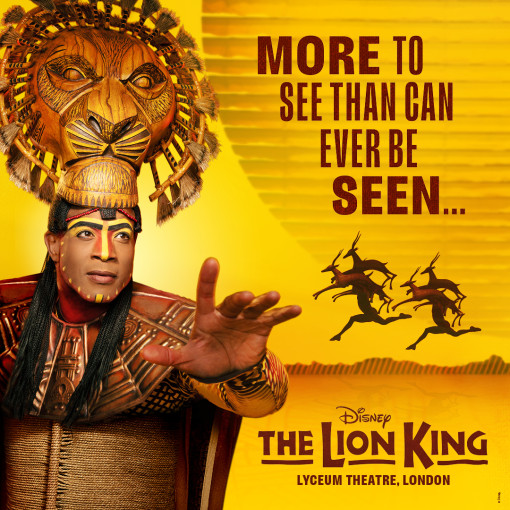 The Lion King

2h 30m (incl. interval)
Lyceum Theatre

4.8/5

based on 6174 reviews
The Lion King photos
Booking details
Booking until: Sunday, 11 February 2024
Running time: 2h 30m (incl. interval)
The Lion King description
About The Lion King
The Lion King is an incredibly popular musical based on the 1994 Walt Disney animated feature film. It stars amazing music from Elton John, lyrics by Tim Rice, and book by Roger Allers and Irene Mecchi. This multi-award winning musical is famed for its remarkable costumes, sets and songs, as well as the plot, which will leave you in happy tears. Stunning effects and enchanting music complete the picture, a musical theatre classic that has been playing continually in London for 21 years. And the magic? It's all thanks to the 'visionary' Director Julie Taymor.
What's the story of The Lion King?
When he's a tiny cub, Simba's dad Mustafa is killed by his wicked uncle Scar. Simba is forced to leave his beloved home, the Pride Lands. Years later Simba returns home to reclaim his rightful throne, helped by his good friends Timon and Pumbaa. When evil Scar begs for mercy, trying to blames everything on the hyenas, Simba spares his life but orders him to leave and never come back. Simba takes over as king at long last and Nala becomes his queen. The Pride Lands are restored and Simba and Nala's newborn cub is presented to the community, neatly continuing the circle of life.
Who is on the The Lion King creative team?
The multi-talented Julie Taymor is the Director, also dipping into Costume Design, Mask and Puppet Co-Design, and Additional Lyrics. Lebo M handles Additional Music & Lyrics, Additional Vocal Score, Vocal Arrangements, and is also the Choral Director. Mark Mancina supplies Additional Music & Lyrics, Music produced for the stage, and Additional Score items. Garth Fagan is the Choreographer and Richard Hudson does Scenic Design. Don Holder does Lighting Design and Michael Curry is the Mask and Puppet Co-designer. Michael Ward supplies Hair and Makeup Design and Steve Canyon Kennedy handles the Sound Design.
What are people saying about The Lion King?
Daily Mail - "You hope all nights at the theatre will be like this."
The Sunday Times - "A wonderful, wonderful musical."
New York Times - "There is simply nothing else like it."
Find cheap tickets for The Lion King
The Lion King is breathtaking, original, moving and thrilling. Why pay more to experience the magic? We sell cheap tickets for Lion King, and we also have some of the best special offers around. We offer a massive ticket inventory, and we even provide seat reviews from real people to help you make the best choice.
Playing at Lyceum Theatre (venue info)
21 Wellington Street, London, WC2E 7RQ GB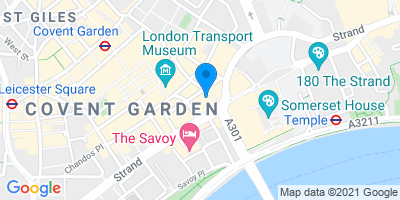 Directions
Performance Times for The Lion King
The Lion King video
Shows Similar to The Lion King