Dominion Theatre Seat Reviews
buy tickets
Dominion Theatre Seating Plan
Simply click on a seat to access user reviews. We might not have reviews for every seat yet, and some seats only have one or two reviews so far. It makes sense to check them all to make sure the opinions expressed are representative and trustworthy.
About the Dominion Theatre
The Dominion Theatre is located on Tottenham Court Road and is one of London's largest venues with a seating capacity of 2,069. The building was designed by W and TR Milburn and opened in 1928 where the site was being previously occupied by the Horse Shoe Brewery. The first performance took place on 3rd October 1929. The building has been designed in a grandeur style with the façade on a ground level entry that is sheltered by a marquee and a three bay bow window extending the height of the second and third storeys featuring a sculpture of two griffins.
Although the venue was quite successful, especially following the London premiere of City Lights with Charlie Chaplin, the theatre started experiencing financial troubles and was closed in 1932. In 1933 The Associated Provincial Picture House took over the building and adapted the venue for films. In 1940 the Dominion yet again closed temporary, this time because of the Blitz, but reopened in January 1941 with the Judy Garland Show being one of its first hits.
During the 1980s the Dominion was known as a music concert venue with legends like David Bowie, Dolly Parton, Boy George and U2 taking to its stage and the late comedian Bill Hicks filmed here his famous Revelations. Since the 1990's the theatre has been home to many musicals including Grease, Beauty and the Beast, Notre Dame de Paris and the world renowned We Will Rock You. Although the venue has undergone restorations few times it still retains its 1920s light fittings and art deco plasterwork.
What's on
Dominion Theatre location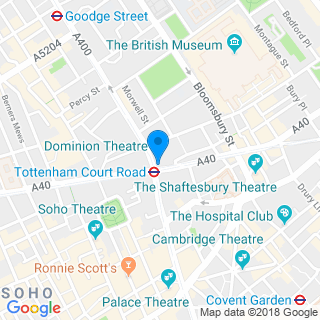 268-269 Tottenham Court Road, London, W1T 7AQ
(View on the map)